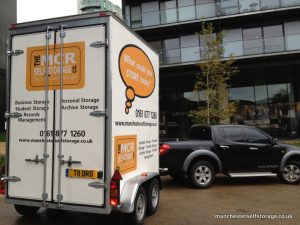 Mobile self-storage is the natural evolution of the standard self-storage model.
Let's face it: self-storage can be quite a stressful experience. Getting your belongings or office stock to a secure storage unit usually involves either hiring a van or making multiple car trips with all the associated expense and hassle (finding documents, deposits, inspections, fuel, travelling time, getting lost, etc.)
Then, when you arrive at the destination, the process can be quite disorientating and intimidating. You need to find somewhere to park, locate your storage room, unload the van and reload into the unit.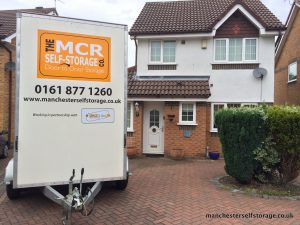 It was only a matter of time before service providers such as The Manchester Self Storage Company thought of a better way to improve customer experience: mobile self-storage.
Mobile self-storage is a door-to-door service whereby one or more mobile storage units (MSSUs) are delivered to your home or business premises. All you have to do is load up the units (although a decent company will offer you the option of having the unit loaded for you). Once you've loaded and locked the unit, it is picked up and taken to a storage facility where it is securely stowed away.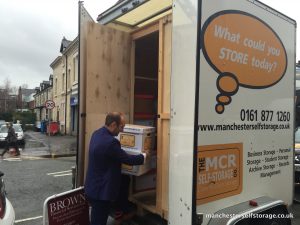 If you need to add items or check the unit, you can either visit the storage facility (usually with 24 hours notice) and drive straight up to your designated loading bay or visiting area. Alternatively, you can ask for the unit to be re-delivered to your door.
At the end of the storage period, the unit can be returned to you for unloading.
Doesn't that sound much less of an ordeal?
The Benefits of Mobile Self-Storage
If you've ever tried standard self-storage before, just reading through those first few paragraphs will probably have highlighted quite a few benefits of going mobile. Here are some of the main advantages of mobile self-storage:
No van hire costs
No wasted time driving (or wasted money paying an employee to drive)
No fuel costs
No hunting for ID papers, driving licence, etc.
No van inspections
No getting lost by following dodgy SatNav instructions
No hunting for your storage room
No ferrying of boxes from your van to a remote storage room (usually at the end of a flight of stairs!)
No paying for empty space (your costs will depend on the number of MSSUs you need, not the size of the storage area).
No double-handling. You load once and unload once.
No shared units. Your MSU will contain only your items which is more secure than sharing storage space with another customer.
All of the above translates as a much more convenient and user-friendly experience than you get with traditional self-storage.
Not All Mobile Self-Storage Services Were Created Equal!
Although the above advantages can be expected with most if not all self-storage companies, the devil is often in the detail.
Before deciding on which company to entrust with your valuable belongings, you might want to ask the following questions:
Can they tailor their service to your specific needs? For example, a student will have different priorities to a homeowner or business owner.
How quickly can you access your MSSU after it has been stored? Is there a charge?
How soon can an MSSU be re-delivered? What are the costs for this?
Do they offer a loading service? How about packing materials?
How long do you get to load up your MSSU? Is there flexibility with this?
What security measures are in place?
What other services are on offer (e.g. is there a document archiving facility)?
Whether you're moving home, going on an extended holiday, storing excess business stock or making space for renovation, we're confident that The Manchester Self Storage Company can provide you with the mobile self-storage service you need.