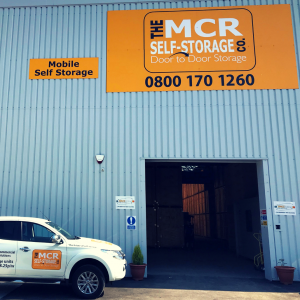 Key Factors To Consider When Making Your Choice
Thousands of people put their personal belongings in storage companies every year. They may be a private homeowner who is de-cluttering their loft for a conversion project or a business needing to archive tax documents. They might even be a student who is heading off for an exciting gap year before moving to a new area, requiring them to keep their items somewhere safe in the interim.
If you live, work or study in the greater area of Manchester and need to find a storage company, then there are plenty to choose from. However, The Manchester Self Storage Company offers self storage solutions that guarantee convenience, flexibility and (most importantly) value for money – all key factors when making your choice. Here's how we stand out from the storage crowd:
The Manchester Self Storage Company is Experienced and Customer Focused
We've got 15 years' experience as a storage company in Manchester and we are committed to offering the best customer service possible. We focus entirely on how we can provide the best answer to any one of our customer's specific and individual needs, rather than trying to fit their requirements into a 'one size fits all' storage solution.
Door-to-Door Mobile Self Storage Company In Manchester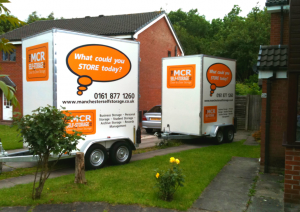 Unlike many storage companies who ask you to take your belongings to them, we offer a door-to-door pick up and collect service, by providing mobile self storage units. This way you won't have the additional stress of finding a suitable van to hire and having to fork out even more money for the the fuel to run it. It's very simple…you let us know when you'd like us to deliver your mobile self storage unit and we'll get it to you. If you think you need more than one unit, then try our space-calculator or chat to the team for advice. Need packing materials? No problem, we can provide these too. All you need do then is load up your unit and then we'll pick it up and take it to our secure facility.
A Self Storage Company That's Totally Flexible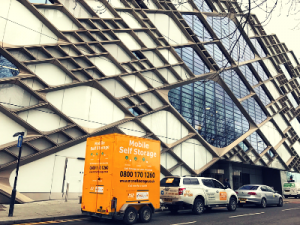 We all know that the best laid plans can change so we pride ourselves on our ability to meet those changes however we can. So, if you need extra time to pack your mobile self storage unit, get in touch and we'll sort an alternative date to pick it up. We can even help with packing and loading – just ask the team and we'll factor in the cost to your storage plan. We also offer mini units for the storage of a few smaller items, so do ask about this too.
Need to top up what's already in store or swap over a few items? We'll deliver your mobile unit back to you for a small charge. What's more, unlike with most other storage companies, if you want access to your mobile self storage unit whilst in store it's easy to arrange and we won't charge you. Do be sure to give us some notice though.
The length of storage and the delivery date for returning your unit is usually arranged at the time of booking, however if you need longer or want your unit delivered elsewhere, we can easily accommodate this. We have a UK-wide transport network, plus years of experience in shipping abroad, so can provide advice and support as required. You can find some details about our delivery and shipping service on our FAQs page or give us a call on 0161 877 1260.
Security Conscious Storage Company
Naturally you will want our assurance that your belongings will be safe and sound when on our premises. You can relax knowing that security is our top priority. Our mobile self storage units are delivered to you on purpose-built trailers with three stages of security. Additionally, every internal storage unit has its own padlock – and you will be the only key holder. The security measures at our storage centre has monitoring alarm systems, with PIR sensors and digital CCTV.
Value For Money, Tailor-Made Self Storage in Manchester
Your storage plan is created specifically for you and is quoted on flexible, affordable terms with no hidden costs. We regularly also run special storage offers and discounts and you'll find these on our website. If you are a student, then check out our flexible Student Storage offer and the discounts available.
If you would like to find out more about how one of the best storage companies in Manchester can help you, please call us on 0161 877 1260.