Whatever Your Reason, We Have The Solution For Self Storage

There are many reasons why you might have to use self storage in Manchester for your belongings. For example, you might be a member of the Armed Forces who is being posted abroad, or a member of the health sector moving to another area for a long term contract. In either case, you might decide to rent out your house, unfurnished, until you return. You could be a small business that wants to store some surplus furniture for a few weeks or an overseas student needing to leave your possessions somewhere secure for the summer holidays.
At the Manchester Self Storage Company, we can take this all in our stride because with over 15 years of experience and outstanding customer service we're able to provide a flexible, reliable self storage solution in Manchester for just about any situation.
Self Storage in Manchester That Does The Hard Work For You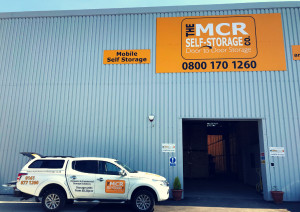 Most self storage companies ask you to get your belongings to them. This means you have to take on the cost and inconvenience of hiring a van – or something larger – plus the cost of fuel. You will have to find your way to their facility and then manoeuver your vehicle so that you can unload your belongings and carry them to the space reserved for you. This can create unnecessary stress at a time when you may have a lot of other arrangements to make.
We're here to minimise stress by sorting all the leg work for you. We deliver the mobile self storage units to you and then collect them, once they are packed, to take back to our self storage centre. All you need do is contact us or use our convenient Callback Request Form and our team will help you each step of the way to make sure everything runs smoothly.
Mobile Units Make Self Storage Easy
Once you're ready to get the ball rolling, the first step is to tell us how many mobile storage units you would like and how long you'd like us to store your belongings. Each unit measures approximately 280 cubic feet but if you think you need more than one then you can check this out by using our space-calculator. We'll agree a suitable date to get your mobile unit (or units) to you and, if required, we can provide boxes and packing materials, by putting these inside your mobile unit when we deliver it. We even offer the option of having someone to come and help you load up – just ask the team and they'll build this into your storage plan cost.
You'll also need to arrange a date for us to come and collect your units and take them to our facility. If you have any questions, then the team will be happy to help and you will find more information on our FAQs page.
Safe and Secure Self Storage in Manchester
Security is given top priority at The Manchester Self Storage Company – and at every step of the process. Your mobile self storage units come on purpose built trailers with three stages of security and your storage unit inside will have its own padlock, with you as the only key-holder. Our self storage facility has state-of-the-art alarm systems, backed up by digital CCTV.
Bringing It Back from Self Storage
You can set the return date of your items at the time of booking your mobile self storage, however we know that plans can change and so it's no problem if you'd like your belongings back a bit later or even sent to a different location. We are also able to ship abroad – more information on this is available on our FAQs page or let the team know how we can help.
Competitive Prices For Self Storage in Manchester
We are committed to offering the best prices, which will always be based on your specific requirements. Do check our website though for our regular special offers and discounts. We also offer tailor-made student storage packages and discounts for members of the Emergency Services.
If you would like to find out more, please call us on 0161 877 1260.