The Manchester Self Storage Company don't just cater for businesses! We also offer a convenient and secure personal or domestic self storage service.
Whatever you are looking to store and for any reason, consider booking one (or more) of our MSSUs to save you time and money.
Who Needs Personal or Domestic Self Storage?
The most obvious use case for personal self storage is during a house move but our customers also use us for many other reasons.
Some are between homes and need a safe place to house their belongings. Others may be planning to go travelling and are concerned about leaving their valuables at home.
Major renovations may also require a clear out with homeowners living in one or two rooms until the building work has been completed.
Then there are those people who are simply fed up with clutter and want to get some space back into their lives.
What can we Store at a Self-Storage Unit?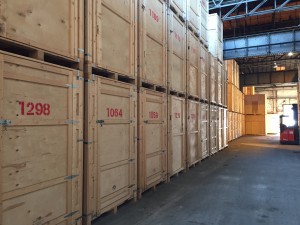 An easier question to answer would be what we can't permit you to store because pretty much anything goes.
There are some exceptions though and these can be found in our Ts and Cs. For example, we don't tend to take food or perishable goods unless they are very securely packed to avoid attracting rats and other vermin. On the subject of living creatures, these are a no no too (including fish, animals, reptiles and humans!)
You won't be allowed to store any combustible or flammable materials either so compressed gas, paint, petrol, oil and solvents are all out (as are explosives, weapons or ammunition of course).
Radioactive materials, biological agents, toxic waste, asbestos and any other dangerous materials will be refused along with any item emitting fumes or a strong odour.
You won't be surprised to learn that anything illegally obtained is barred.
Apart from that, almost anything you can think of will be acceptable (although we reserve the right to deny storage without a reason).
How Does Mobile Self-Storage Work?
The mobile self storage process is designed to be as convenient and fuss-free as possible.
Once you've cleared some time for packing and loading, call the Manchester Self Storage Company and we will deliver a mobile self-storage unit (MSSU) to your home. In most cases, this service is free.
We will then give you the time you need to load up your belongings before returning to collect the unit and take it to our secure storage facility.
What happens if you need to access your personal effects to find something, add items or check on them? There are two options. We can either re-deliver the unit to you for a small charge or you can give us 24 hours notice and we will move your MSSU to an accessible loading bay where you can drive right up to it and enter for free.
Finally, when you are ready to receive your belongings back permanently, we will return the MSSU to your chosen destination ready for unloading.
Why Mobile Personal/Domestic Self Storage Makes Sense
If you're yet to be convinced that mobile self-storage is the best option for your family, here are some of the benefits:
Save money. With no van hire costs or diesel to worry about, getting your belongings from A to B costs nothing.
Save time. The only time you will need to set aside is what you need for packing and loading. You won't have to waste time driving (and getting lost) or unloading.
Peace of mind. Our self-storage units are clean, dry and protected by CCTV and monitored alarm systems.
To find out more about our personal/domestic self-storage service, please don't hesitate to call our friendly team.