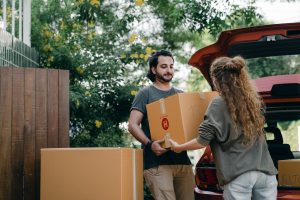 It is well documented that moving house is one of the most stressful experiences anyone will deal with during their lifetime.
With so much riding on the process and the fact that nearly everyone underestimates the volume of possessions they own, the more steps you can put in place to make a move more efficient, the easier the process becomes.
Undoubtedly, the sheer amount of possessions we own is a huge contributor to the hassle factor, which is why more and more people are taking advantage of the many benefits that self-storage facilities offer.
Self Storage When You Need It – For However Long You Need It
Many people we speak to are under the misapprehension that self-storage units can only be hired for long periods of time, but this is not actually the case.
At MCR Storage, we build our business around the requirements and needs of the customer, so if you only need storage for a week or a month, then that is something that we are more than happy to accommodate.
For some people, when moving home, this extra buffer and additional space are all that they require to make the process move that much smoother.
Protect Your Valuables
It is almost a law of nature that if anything is going to become damaged or broken during the moving process, it will be something precious, valuable or sentimental significance. To try and reduce the risk of this happening, many people now hire a self-storage unit solely for the purpose of storing their important but delicate items, so they do not have to worry about them while moving the larger items, which are more prone to causing the damage to occur.
Quick and Easy Access To Your Items When You Need Them
Life will also throw up issues or challenges, however, well, things have been planned in advance, but the good news is with MCR Storage that, you can always gain quick and easy access to your valuables should the unexpected happen. Provided you give us a little bit of notice, we will do everything in our power to facilitate your access and make your life easier.
Clean Secure and Affordable Self-Storage
We understand that you are entrusting your valuable possessions to our care. That is why we ensure that all of our self-storage units are clean, secure and affordable. As a locally owned and operated company, we are committed to the local community and recognise the value of each of our customers.
With first-class customer service, attention to detail, continuous reinvestment and the latest security, we are confident that MCR Storage will not only meet your expectations they will exceed them.
Call us today for a free no, obligation quotation on 0161 877 1260