Let MCR Self-Storage Come To The Rescue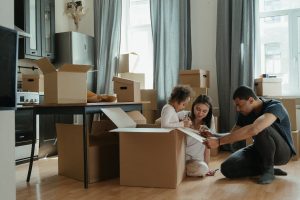 Summer is always one of the most popular times to move house. The days are longer, and the weather allegedly is better, but unfortunately, there is always the possibility that things will go wrong and the unexpected will happen. That is why it is best to prepare as best as possible to avoid any potential issues and to have a contingency plan in place if something goes awry. Having been on the end of numerous phone calls from people panicking about what to do with their valuable possessions, we have compiled this guide to planning a summer house move in Manchester.
De-Clutter As Much as Possible Before The Big Day
You will be totally shocked by how many possessions you have managed to amass since the last time you moved home. Those lovely storage areas, such as the cupboard under the stairs or the loft, which were perfect for hiding things, suddenly become your biggest nightmare when the time comes to move. Rather than needlessly transport those items, implement some sort of rule such as if you haven't looked at it or used it for two years, then get rid of it. Obviously, there will be exceptions for things with sentimental value, but the concept remains the same.
Make Plans For The Children
Although our little ones are probably very excited about the move and will no doubt be enthusiastic to assist, the reality is that they are much more likely to add stress to an already stressful day. The best thing to do is see if a family member will volunteer to look after the children on a moving day, rather than you having to stress and worry about them and their safety.
When packing any of their favourite items, make sure to keep them safe and easily accessible for when you get the children back, as their familiar possessions are likely to make them feel at home in their new property much quicker.
Book A MCR Storage Unit To Give Your The Ultimate Flexibility
Now that you have de-cluttered and sorted out the children, the next step in the process is to contact MCR Storage and hire a self-storage unit. At MCR Storage, we have units of all shapes and sizes, and we are very flexible in terms of the length of time you need to sign up for. Our entire cost structure has been designed around you, the customer, as we want to make everything as cost-effective and efficient for our customers as possible.
Once you have booked the unit, start to move your less important or bulky items into it before moving day. That way, you can focus on the most important items that need to be moved on the actual day itself, thus reducing the pressure. Of course, if the day runs smoothly and you have unexpected time at the end of the day, and sufficient energy, then you can come over to your storage unit and collect more, if not all, of your belongings. The choice is then totally in your hands, without the stress and the pressure. The added benefit of having a storage unit booked is that if the moving day gets delayed or moved for some unexpected reason, you at least do not have to worry about your personal possessions.

Think of a self-storage facility as a belt and braces approach to ensure your moving experience goes as smoothly as possible. For a minimal outlay, you have a backup plan, as long as you need to store your items and a significant reduction in the pressure you face on the day. To discuss your requirements or have any questions about our storage facilities, call MCR Storage today on 0800 170 1260