Mobile Document & Archive Services for Greater Manchester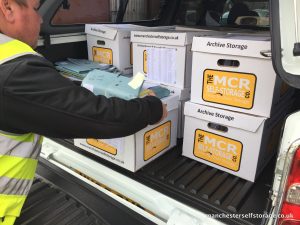 Business self storage is often associated with office furniture or excess stock but there is another common purpose why companies book self-storage. From invoices and contracts to certificates and photographs, every business will contain sensitive documents which need to be kept securely and organised efficiently.
Even if you have space in your office to store and organise this paperwork, have you ever asked yourself what would happen in the event of a fire?
It may be natural to assume that all document and archive services are the same but that is definitely not the case. Choosing the right business self storage unit could mean the difference between being able to quickly access an important file or photograph when needed and wasting time hunting through boxes of disorganised paperwork.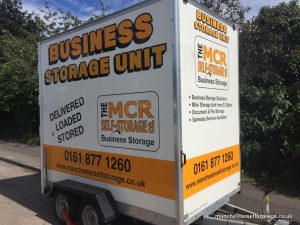 A good place to start is by asking yourself what exactly it is you are looking for from a document storage and archive service. How often will you need to access your storage units? How quickly will you need to have access to the contents? How will your documents be indexed? How will the documents be protected from theft and damage? Can shredding be scheduled to meet data protection laws?
How Mobile Self Storage can Make your Life a lot Easier
The Manchester Self Storage Company provide a mobile document and archive service. This provides many benefits that you just don't get from a static self storage company.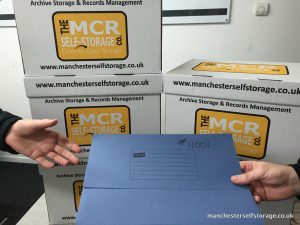 One thing you won't have to worry about is booking van hire. Our mobile storage units will come to you. All you need to do is fill the unit (we're flexible with how long you want for that) and we will then collect it and take it to our secure storage facility.
Of course, with no van hire that also means no deposit, no fuel costs, no being blamed (rightly or wrongly) for scratches and dents and no double-handling of your documents.
Once your documents have been securely stowed away in our storage facility, you can arrange free access with 24 hours' notice. This gives us the opportunity to move your unit out to our loading bay so that you can simply reverse your vehicle up to it. Only people to whom you've given the access code will be able to access the unit and there's no running up and down stairs and along corridors trying to work out which storage unit is yours.
What happens if you come across a box or two of files you forgot to archive? Or you need urgent access to some marketing materials for an upcoming presentation? For a small charge, The Manchester Self Storage Company will return your storage unit and we can even offer an express two-hour delivery service.
When you want to move your documents out of storage permanently, let us know the date and we will return your unit to you for unloading.
Secure Storage and Shredding for Post-GDPR Compliance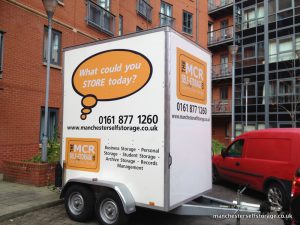 When the General Data Protection Regulation (GDPR) came into force in May 2018, businesses were advised to review their current data protection procedures and tighten them up if necessary (millions of pounds in fines proved a strong motivator!)
Many businesses realised they would struggle with data access or deletion requests. The Manchester Self Storage Company provides indexing and database services for fast and simple document retrieval. Combine this with our two-hour return service, CCTV monitoring, PIR sensors and secure, certified document destruction service and it is clear to see why business owners trust us to help them with their GDPR compliance.
So before you rush off to book the cheapest document storage option you can find, do your due diligence and make sure that your chosen storage company can answer your questions satisfactorily.