A Guide To Packing For Self-Storage
Self-Storage is rapidly becoming a necessity rather than a luxury for many people, but one of the biggest traps that people fall into when using a self-storage unit is not packing their possessions properly.
This is important because not only do you want to keep your property stored safely, but you also want to pack it in such a way that you maximise the storage space you are paying for and don't waste any of that valuable real estate.
In this article, we will focus on how best to page your possessions to ensure that you get maximum value from your self-storage experience.
Ensure You Have The Correct Packaging Materials To Pack Your Possessions Properly
There are a range of various packing items that are essential to ensure a smooth experience. These include but are not limited to:
Cardboard Boxes of Varying Sizes
Bubble Wrap
Packing Paper
Packing Tape (To Seal The Boxes)
Permanent Markets
Blankets To Place Over Larger Items of Furniture
1 Create A Packing Plan

When it comes to storing lots of your possessions, if, for instance, you are moving house, then organisation is the key. Think about which items, such as a kettle, toaster, plates and cutlery, you are likely to need quickly. Pack those items last and place them at the front of the storage unit for easy access.
Other items that are not essential should be stored at the rear of any storage unit, as it is unlikely that you will need them urgently. In addition, factor in if certain items can be dismantled to save on storage space, and think carefully about fragile items and where they should be stored. You don't want to store fragile china in a box under other heavy boxes.
2 Stick To The Plan
If you are trying to do all of the moving or storage in one day, it is easy to let all of your planning and preparation mentioned above go to waste. As you get more tired throughout the day, it can be tempting to force your boxes into the storage unit because you just want the job to be finished. However, this will inevitably cause you issues or frustrations in the future, as well as potential damage to your property. Take your time and stick to the plan.
3 Invest In Quality Boxes and Tape

As the old saying goes, you get what you pay for, and it has never been more critical than when it comes to purchasing packaging materials for the move. Although it may be tempting to purchase cheap packing tape and get free boxes from the supermarkets, you are taking a very real risk that the boxes will collapse, dropping your precious possessions on the floor as you are walking around.
That is why we sell high-quality boxes and packing materials, as we have seen distraught customers in tears all too often when their valuable and precious ornaments are smashed on the floor because the cardboard box has given way.
4 Never Overload The Boxes
Regardless of the quality of the boxes or the packing tape, the law of physics dictates that each box will only carry a certain amount of weight. Bear this in mind when packing your boxes to ensure that you don't overload them, in turn causing them to collapse and break.
5 Label Every Box On All Sides Clearly
Make sure to label every box you pack clearly on all sides with the exact contents of the box. When you have stored 30, 40 or even 50 boxes, if you only ever write the contents on one side of the box, sod's law dictates that it will be the side of the box that you cannot easily see, causing endless hassle and frustration when you are quickly trying to locate one specific box.
6 Packing Your Boxes – Take Your Time and Pack With Thought and Consideration

Packing your contents in cardboard boxes is actually quite a skill and requires some knowledge and expertise. You do not want to pack everything too tightly because if any pressure is applied to the box during the moving process, there is no flexibility, and items could get broken easily.
Alternatively, you don't want to pack the items too loosely, enabling them to slide around during the moving process and damage each other.
7 Never Store Any Furniture Or Upholstery That Is Damp
When it comes to upholstered furniture, take extra precautions to ensure that the items are 100 per cent clean and dry. Many people are unaware that damp upholstery encourages mould and mildew to breed, which is not only unpleasant but can also cause extensive, often terminal, damage to your furniture. If it is raining on a moving day, then invest in some plastic dust sheets to ensure that no rain or moisture gets into the furniture during the moving process.
8 Be Careful of Sharp Corners
When packing anything of substance into boxes or storing them in your self-storage facility, use bubble wrap to protect the corners of tables, chairs etc. Not only will this protect your furniture, but it will also avoid any painful injuries to your shins and legs as you move the items around.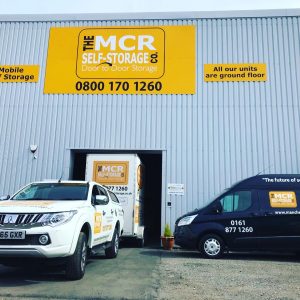 At MCR Storage, we have built our reputation on quality facilities and first-class customer service. We are one of the largest independent providers of self-storage in Manchester and have many years of experience in the industry.
If you are contemplating a self-storage unit for moving home, winter sports storage or even business use, contact us today at 0161 877 1260