Having already had more than two sunny days in 2022, there is growing confidence in the air that summertime has arrived in Manchester. While there is every chance that summer is over for the year, let's try to be positive and assume that this year will deliver many hot balmy summer days. For our clients who have never used a self-storage facility in the summer months, here are three top tips that will help to improve the experience.
Think Carefully About The Time of Day When You Want To Move Your Items
Although Manchester is not renowned for 40-degree temperatures, there is no point in making the job more challenging than it needs to be! Many people often underestimate how tiring it can be to move a large number of items, so where possible, try and arrange the move for the first thing in the morning.
This way, you will wake up motivated, with more energy, and in theory, at least you might not have to deal with so much traffic on the roads.
Never Move Your Possessions To Self-Storage on a Rainy Day
Rain and water are generally not an issue when you are moving homes, for instance, but what many people fail to take into account with self-storage is that you are unlikely to visit the storage facility on a daily basis.
This means that should your contents get wet or damp during the moving process, there is an increased risk that mould and mildew could develop in the storage unit over time.
This could mean that when you go to collect your items in four or five months, they may not smell particularly nice, or in the worst-case scenario, there may be water stains or even permanent damage.
Items That Could Melt Are Not Suitable For Self-Storage Units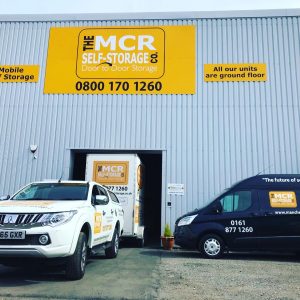 Although our self-storage units are modern and well maintained, it is always possible that they can get quite hot in the summer months. Items with a low melting threshold are particularly susceptible to the heat in the summer months, so we always advise our customers to think carefully about the things they wish to store with us.
Some items we recommend not being stored, particularly over the summer months, are candles, makeup, art supplies and food items. Luckily most of these items are relatively small in size, so it would be more beneficial to keep these smaller items at home and choose other more suitable things to go in the storage facility.

These tips, while not groundbreaking or revolutionary, are, in our experience, things that most people overlook to their cost. At MCR Storage, we try to do everything in our power to ensure that every customer has the perfect experience and recommends us to their friends and family. That is how we have grown the business year after year, and it is this type of attention to detail that we believe sets us apart from the competition.
If you are looking for self-storage facilities over the summer months or beyond, contact us on 0161 877 1260 for a free no-obligation quote.