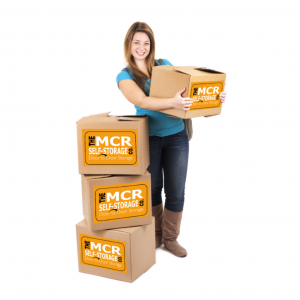 If you're a student studying at the University of Manchester, any of its affiliated colleges or Manchester Metropolitan University then you'll need to keep your belongings safe when you're away for the holidays.
You may even be about to finish your studies and are thinking about taking a gap year. The last thing you want to worry about is where to put your gear in the interim.
At the Manchester Self Storage Company, we have over 12 years of experience in providing cost effective, secure and stress free mobile student storage in Manchester and we can offer a solution that will fit with your individual requirements.
Door to Door Student Storage in Manchester
Most self storage companies will expect you to take your belongings to them. This isn't always convenient as you may not have access to transport so this means spending money on the cost and inconvenience of hiring a car or van – plus the cost of fuel. This just creates more hassle at a time when you want to be concentrating on other things.
We offer student storage packages that incorporate all the leg work – we deliver a mobile self storage unit to your halls of residence or house and then collect it, once packed, to take back to our secure self storage centre.
All you need do is contact us or use our convenient Callback Request Form and our team will help you each step of the way and make sure everything runs smoothly. You can also get a quote online by going to our Student Storage page and clicking on the green 'get an online price' box.
Manchester Student Storage That's Easy to Book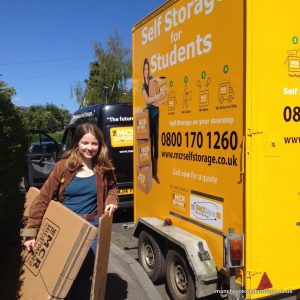 The first step is to tell us how many mobile storage units you would like and how long you'd like us to store your belongings. Each unit measures approximately 280 cubic feet but if you think you need more than one then you can check this out by using our space-calculator.
We'll then agree a suitable date to get your boxes and your mobile unit to you and, if required, we can provide boxes and packing materials. We'll put these inside your mobile unit when we deliver it – just choose what you need from our packing supplies page. Our mobile units can also house individual items, such as furniture, musical instruments or your TV.
The next step is to arrange a date for us to come and collect your mobile unit and take it to our facility but if you subsequently find you need a bit of extra time to pack up your belongings, do get in touch and we can arrange another date. Need a bit of help in loading up the unit? No problem, just let us know and we'll add that to your storage package. If you have any questions, then the team will be happy to help and you will also find more information on our FAQs page.
Safe and Secure Self Storage in Manchester
You won't want to spend time worrying about your belongings whilst you are away, so you can relax knowing that security is given top priority at The Manchester Self Storage Company. Your mobile self storage unit comes on a purpose built trailer with three stages of security and your internal storage unit will have its own padlock, with you as the only key-holder. Our self storage facility has state-of-the-art alarm systems, backed up by digital CCTV, with PIR monitors.
Getting Your Belongings Back from Student Storage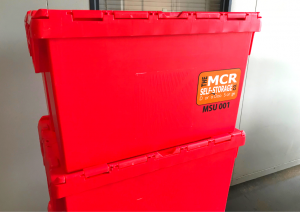 It's usual to set the return date of your items at the time of booking your storage, however we know that plans can change and so it's no problem if you'd like your belongings back a bit later or even sent to a different location. Our network means that we can deliver to anywhere in the UK and we can also ship to most countries around the world. You'll find more information about this on our FAQs page or ask one of the team.
Competitive Prices for Self Storage in Manchester
We are committed to offering the best prices, which will always be based on your specific requirements.
If you would like to find out more about our student storage options in Manchester, please call us on 0161 877 1260.