Student Storage Gtr Manchester
If your son or daughter is currently attending University, then the end of the student year can only mean one thing – upheaval. If you are lucky, then your child will be staying in the same house, but this is the perfect time for many students to move into a new property for the following year.
Although you will undoubtedly be glad to welcome your children back to the family home, do you really want to have the hassle of transporting and storing their ever-burgeoning possessions, only to bring them all back a few weeks later? This is why hiring a self-storage facility is quickly becoming the de-facto choice for parents up and down the land.
The Best Student Storage in Manchester

MCR Storage quite possibly offers the best student storage service in the North of England. We are a locally owned and operated company that values the student market and always tries to go the extra mile to ensure that they are correctly looked after.
We put a great deal of time and effort into helping the students of Manchester University and other educational establishments with their self-storage needs.
Our service is popular with both local and international students, and we even run a service where we can collect and return your property at a convenient time.
We understand that not all students have access to a car which is why we were one of the first storage facilities to offer this service.
Safe and Secure Storage With 24 Hr Surveillance

When it comes to student storage in Manchester, we never lose sight of the fact that our customers are entrusting us with some of their most valued possessions.
That is why we provide them with free packing boxes, packing materials, and even advice on packing their items safely.
This is particularly important for students in the Manchester area who have decided to store their items with us during their gap year.
Our Self-Storage Facilities Benefit From An Excellent Location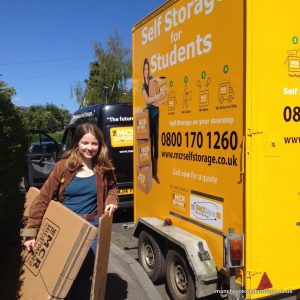 When we set up our self-storage facility, we always knew that student storage in Manchester was a key foundation of our business model. That was a key factor in why we chose our current location, as we wanted to be the nearest storage centre to Manchester Metropolitan University. If you are searching for a company that prides itself on providing excellent service, that will offer you a free storage quote and provides the best self-storage solutions in Manchester, then MCR Storage is the company you have been looking for.
Why Choose MCR Storage?
Competitively priced self-storage packages
A comprehensive range of storage services to choose from
Clean, secure storage for your prized possessions
Perfect For anyone moving out of student accommodation Summer 2022
Easy access to your storage unit from anywhere in Greater Manchester
We can collect from your door and also offer a return delivery service
Special packages for Summer holidays storage –
Friendly and helpful customer service team
Transparent pricing policy
Call us today to discuss your student self-storage needs on 0161 877 1260