Commercial Storage Unit
If you have never used container or self storage before, you might be wondering who would use such a service? Lots of business owners, homeowners and even students contact the Manchester Self Storage Company for help. Here are some of the main reasons why:
Storage Units for Personal Belongings
From furniture to family heirlooms, commercial storage units can keep your possessions clean, dry and secure for anywhere from a couple of weeks to several years, depending on the company you choose.
Why do ordinary homeowners opt to pay for storage units?
There are many reasons. Moving house is one situation where storage units come into their own. For example, if you're in a chain, you might end up selling your house before your new home become available. Rather than risk the buyer getting cold feet, you could move your possessions into storage while you wait for the forward house to complete.
Or perhaps you've started a new relationship and are planning on moving in together, perhaps in temporary accommodation while you look for your dream home. Rather than trying to cram two or more people's things into one small house, you could look into the option of hiring storage units.
Storage units are also worth considering if you are planning a big renovation or refurbishment project. It may be safer (for you and your possessions) to lock them away until the work has been completed.
Storage Units for Business Usage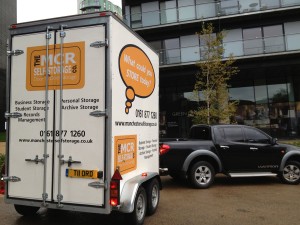 Whether you manage a traditional business or a virtual e-commerce store, storage units have a wide range of use cases.
With the modern trend towards home-run eBay, Etsy and other kinds of e-commerce stores, storage units provide a 'virtual warehouse' for your goods. For more traditional businesses, you can use self storage to hold excess or out of season stock.
Another reason businesses might turn to the Manchester Self Storage Company and other providers of storage units is for storing office furniture during an office move, or prior to a first office being set up.
The Manchester Self Storage Company can also offer an archiving facility for your important documents. This is a great way to keep your sensitive data both organised and protected from theft and damage.
Storage Units for Students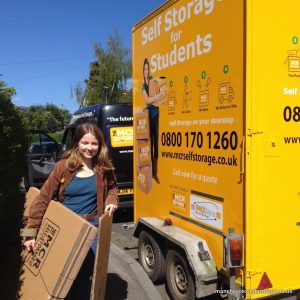 Even cash-strapped students find the affordability and flexibility of storage units something which meets their needs. After spending a term building up valuable and sentimental possessions, they often don't want to leave them unmonitored in their next term's digs. Self storage enables them to go home and visit mum and dad for the summer, Easter or Christmas holidays, safe in the knowledge that their stuff is locked away securely within clean and dry storage units.
Of course, self storage is also ideal for long-term use such as caring for their possessions while a student goes off backpacking for a year.
The Advantages of Mobile Self Storage
There are plenty of companies offering static storage units for homeowners, business owners and students but another popular option is mobile self storage – and it's not hard to work out why.
For a start, there is no need to think about hiring a van for taking your items to the storage units. This means no fuel costs, no hire costs, no security deposits and no worrying about scraping the van or getting lost. With mobile self storage, the storage units are delivered to you. You then fill them with the items you need storing, lock them up and wait for someone to collect them.
The Manchester Self Storage Company provides a very flexible mobile self storage service. We can drop off your storage units at a time that is convenient for you. Once we've securely stored your items in our CCTV and alarmed storage facility, you can arrange access with just 24 hours notice. We will then pull out your storage units to a convenient loading bay. You don't even have to come near to our facility if you don't want to though. For a small charge, we will redeliver the units to you if you ever need to add to or inspect the contents. If you don't we will just wait until you direct us when and to where you want your belongings returned.
We've touched on a few of the common uses for storage units above but there are many other business and personal use cases. In most cases though, mobile self storage will be the most convenient and stress-free storage solution. Call the Manchester Self Storage Company for a free, no-obligation quote today on 0161 877 1260.