WHY MANCHESTER SELF STORAGE COMPANY ARE THE BUSINESS STORAGE SPECIALISTS
Whether you're relocating, downsizing or just organising your space, the Manchester Self Storage Company can look after your business storage needs.
Here is what we can offer your business via our mobile self-storage service:
A Flexible Business-Friendly Service
Our business storage service is flexibly designed around the needs of business owners of all sizes. From modern bedroom-operated eBay or Etsy micro-businesses to large, established international firms, we will help you find the business storage solution you need.
Here are just some of the items we can store in our safe, dry and secure facilities :
spare office furniture
tools
materials
data files
documents
excess stock – helping you to deal with fluctuating demand while avoiding shipping delays
seasonal stock
marketing/promotional items
Christmas trees and decorations
pallets (we offer bulk storage space with forklifts on site)
We are happy to store most business related items but if you are in any doubt, please call our friendly team for advice.
Mobile Self-Storage: Our Process
So how does mobile self-storage work?
Unlike standard business storage services, you won't need to hire a van or think about transport at all because we come to you.
At the booking stage, you will tell us where your stored items are located and we will deliver one or more mobile self-storage units to your door together with any boxes and packaging materials you may need.
Once you have loaded up your units, simply secure it with a padlock and wait for us to collect the units. We will then take them to the nearest of our 20+ business storage facilities.
Convenient Access Arrangements
What happens if you want to add to or sort through your business storage? You have two options.
You come to us. With 24 hour notice we will make sure your unit/s are taken to a convenient loading bay where you will be able to drive right up to it. This service is free of charge.
We redeliver to you. Foe maximum convenience, we can transport your units back to you. There is a small charge for this service.
When your business storage needs are over, we can return or ship your items to any location you choose – in the UK or overseas.
Watertight Security
Although you may never set foot inside our business storage facility, you will want to know your items are being cared for. We prioritise safety and security and all of our facilities offer a clean, dry environment with 24 hour digital CCTV protection and we also have a monitored alarm system in place. If anything moves in the vicinity of your items, we will be on to it!
Full Archiving and Record Management Service (Includes Shredding)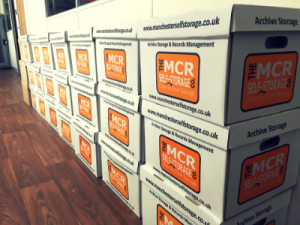 Part of information security compliance involves knowing where your data is being stored and designing security into your systems. By using the Manchester Self Storage Company's archiving and record management service, you will be able to quickly access records and, where necessary, have them returned to you (we offer a 2 hour Express service for urgent situations).
Being able to destroy customer data at their request is also a feature of the new GDPR regulation. Our certified shredding service will help you to meet your responsibilities should that request be received.
Hopefully we have answered all your questions about business storage with the Manchester Self Storage Company.
To make a booking please email us at info@manchesterselfstorage.co.uk or call 0161 877 1260. Our rates are affordable and we often have long-term storage discounts too which may save you even more money.