Manchester Self Storage will bring a mobile storage facility to your door and then take it away again and keep it secure for as long as is needed. A simple and reliable option to store documents, office supplies, or whatever else you might need putting away.
Creating a better work environment where people are better able to concentrate and hold productive meetings. Here are five reasons why storing away things for your business makes good commercial sense.
Essential documents are secure and out of the way

Businesses are required to store official documents for six years. It can be a hassle to ensure that these documents are kept safe, and they often take up valuable space.
Storing them away ensures security and frees up your business to make room for more exciting things or nothing at all! Our storage facilities are highly secure, including security locks and CCTV.
Save money
Investing in storage might actually save your business money. You will be able to manage with a smaller office and less security. A smaller office does not only result in cheaper rent. It also saves on insurance and utilities. The per meter cost of archiving your documents in one of our storage facilities is less expensive than that space on a commercially rented building.
Flexibility
We offer ultimate flexibility. You can have your storage unit for as little or as much time as you need. You can also have free access to your storage unit 24 hours a day. 
Moving
If you need to move to a new office, then you will be able to pack things up from your office and have everything moved to a new location. Or you can store items away while you set your new office up and then have the storage unit delivered to your door.
Expanding your business
As your business grows, you will not need to be concerned about running out of the room. With Manchester Self Storage, you will have a secure, dry, and clean space to store stock. Keeping your office professional and clear.
Health and Safety
Ensure that you are keeping with health and safety regulations, as boxes can quickly become a hazard.

Developing equipment
You may need specific equipment for a project and then need to change that equipment. Instead, then throwing away expensive equipment that you might need again, store it away. You can bring it back out at any time.
This can also be helpful for freelancers or people who work from a van such as gardeners, painter and decorators, installations and renovations. You can bring what you need for each job and store away the rest. This could result in a smaller, cheaper van and a more organised work approach.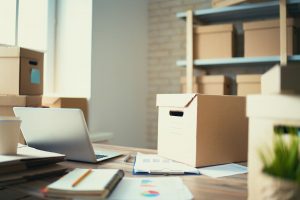 Online business
If you run an online business, then having proper storage might take away your need for an office or rented building altogether. You can store away your supplies and equipment and have access to it whenever you need it. Whatever your business, proper storage can enable you to expand.
Get in touch with us and we can find out what your needs are and find a storage solution that works for you. We pride ourselves on our customer service and our flexibility.